Reed Kotalik, 8, writes book to inspire, support Cerebral Palsy therapy

An 8-year-old boy with Cerebral Palsy pointed out photos as he talked about the pages in his new book "Running with Reed Be a Better Somebody" Saturday morning on a mission to inspire and support training for therapists. "I want to help other people,
PHOTOGRAPHY BY JENNIFER BRUSE, HELLO WOODLANDS
Cerebral Palsy Can't Slow 6-Year-Old Who Loves to Run
Reed Kotalik brings home medals and defies the odds.
TUESDAY, MARCH 22, 2016, 3:20 PM
Kindergartner Reed Kotalik, 6, of The Woodlands, Texas, doesn't know what cerebral palsy is. He just knows that his legs don't work the way he'd like them to sometimes. But that doesn't stop him from doing what he loves to do—run.Around the time Reed, who has four siblings, was diagnosed with cerebral palsy, he told his mother, Dawn, out of the blue that he would like to try running.So in November of 2014, just after his fifth birthday, she found a one-mile Thanksgiving race for him to run."I had no idea how he did, I just knew that there were thousands of people out there, and so we left,"  Dawn Kotalik told Runner's World by phone. "A couple of days afterward, they called and said they had this two-foot-tall trophy for him. At that point, he said he wanted to do more races."VideoFour months after his diagnosis, Reed competed in the AAU 14-Under Youth National Indoor Track & Field Championships and took home gold medals in the 400 and 800 meters.
Kotalik learned Reed had been born with no cartilage in his throat, a condition called laryngomalacia, when he was six weeks old. He went through speech and eating therapy, which became the focus of the family's energy for the first two years. Reed also had trouble sleeping, and a series of EEGs eventually revealed that his brain would try to wake him up as often as 17 times per hour during the night. Kotalik also sought advice from an orthopedist, because she had noticed an inversion of his left foot.
Finally, an MRI revealed abnormalities in the white matter in Reed's brain and he was diagnosed with cerebral palsy shortly before he turned five. 
Around that time, Reed's neurologist recommended that he have surgery to correct the inversion of his foot. Though his mother scheduled the surgery three different times, she ultimately decided to look into other solutions.
"I couldn't imagine making him take [time] off [from running] to have a foot surgery," Dawn Kotalik said. "I thought maybe doing more to help his muscle control and movement would be a better solution."
Reed now follows a schedule that requires discipline well beyond his years. Two or three times per week, Olympic 800-meter hopeful and former University of Arkansas runner Chris Bilbrew picks Reed up around 6:45 a.m. and they do 60–75 minutes of running training before Reed heads off to kindergarten.
"Reed isn't like other 6-year-olds because he actually wants to do it, so it makes it easier to train him," Bilbrew, a 1:47 800-meter runner, wrote in an email to Runner's World. "He is very energetic and determined. He doesn't like to lose and wants to work to make sure he wins."
After school, Reed works on strengthening his muscles with the physical therapists at CHI St. Luke's Health in The Woodlands. He takes Fridays off from training and receives a sports massage, and then spends the weekends working on his field events.
Reed has recently started competing in the shot put, turbo javelin, and long jump as well, in part to pass the time while waiting between his running events at track meets, and in part to keep his options open.
"I didn't know how much longevity he would have with running, so I thought that if I could go ahead and get him into field events now, that if something happened where his running five years from now isn't what it can be right now, at least he can still do something in the sport he loves," Dawn Kotalik said.
Reed just finished up his two-meet indoor track & field season by earning five medals for top-four finishes. His favorite track race is the 1500 meters or mile. At a meet in Ypsilanti, Michigan, he ran 7:37 for 1600 meters, which is the equivalent of 7:39 for a mile.
Reed also enjoys road races. He's raced as long as five miles, but quickly learned that for now, he prefers 5Ks.
"I think that, in his little mind, he thought that 5K and 5 miles were around the same amount, so after the five-miler, he was like, 'You know what, I think I'm going to wait a little longer before I try that distance again,'" Dawn Kotalik said.
Reed's next goal is to qualify for this summer's Junior Olympics in Houston in four events.
Kotalik says that once her son is old enough to understand what cerebral palsy is, she will explain it to him.
"It seems like he knows something's up and he likes feeling as though he's doing something about it," Kotalik said. "He seems to have that determination to kind of sort through it and work it out."
"At this point, I see absolutely no limit with what I think he can do for himself," Kotalik said. "There are certain days I'm one tired momma, but I look at him and I'm like, 'How can I not just embrace what he's doing?'"
rabbit sponsors Reed Kotalik, a 6 year old that doesn't let cerebral palsy slow him down, for the Santa Barbara State Street Mile

Photo By: Holly Anderson Photography
Santa Barbara, California – June, 2016
rabbit is hosting Reed Kotalik in Santa Barbara, CA this weekend for the annual HOKA ONE ONE State Street Mile, which is held Sunday, June 5th. Reed is a 6 year old from The Woodlands, Texas. In November of 2014, he was diagnosed with Cerebral Palsy.
During the same month that Reed was diagnosed, he asked his mom to sign him up for a local road race and he took to the line with hundreds of others. He surprised his family when he placed 3rd. Since then, Reed has stepped up to 19 National podiums, 5 of those were for Gold Medals. Reed is currently focused on quadruple qualifying for the Junior Olympics as he aims for more gold.
One thing that new changes, is Reed's determination to get up and get going! Many of the athletes who stand at a start line of a black oval, trail, or road race with Reed have no idea that he has cerebral palsy. In 2016, Reed decided to use his national platforms to bring awareness and raise monies for deserving causes: Head for the Cure (Brain Cancer), CASA (Foster Children), Make Lemon Aide for Cerebral Palsy, and The Will Herndon Fun for Juvenile Batten.
rabbit Co-Founder Jill Deering says, "we are thrilled to have Reed be a part of this epic weekend of fast running in Santa Barbara, CA. Reed is such a special and determined child and we are so excited to see him fly down State Street. When rabbit was introduced to Reed we were immediately inspired by his story and wanted to do something special for Reed and invite him to our community so we could share his story around this special event."
Reed's PR in the mile is a blazing 6:07. We can't wait to see how he performs on our very own State Street.
Runners World wrote an inspiring article on Reed in March of 2016. You can read more here.

TRACK: 6-year-old Woodlands boy takes gold at Northern Indoor Championships
Published 1:45 pm, Thursday, January 28, 2016
It was 2015 and a five-year-old Reed Kotalik was representing The Woodlands at the National Championship meet in Ypsilanti, Michigan.
With about 150 meters to go in the 400 meter race, Reed was in fifth place. As they began making the final turn, Reed started passing the runners in front of him.
Ten feet from the finish line, he passed the last runner to take first place and gold medals in the 400 and 800m races … just four months after being diagnosed with cerebral palsy.
A year later and Reed is back at it — bringing home hardware from the 2016 AAU Northern Indoor National Championships, in Rockford, Illinois, with a gold medal in the Long Jump, silver medal in the 1500m, and fourth place in the 400m.
On Monday, CHI St. Luke's Health — The Woodlands reached out to Reed and has family, expressing their interest in teaming up with the young track star.
"We met with CHI St. Luke's and they wanted to sign Reed onto their team," Reed's mother Dawn Kotalik said. "They are looking to have an official signing with him in February."
Just earlier this month, CHI St, Luke's announced their sponsorship of three 2016 Olympic hopefuls, training in The Woodlands.
While Reed, a student at Paddington British School, loves running for the competition, he also recognizes the platform he has to raise awareness about important issues.
In his latest meet, Reed teamed up with another runner and wore uniforms they designed themselves to raise awareness about CP and Court Appointed Special Advocates (CASA).
In 2016, Reed isn't just running for big medals and National titles.
Cerebral palsy is a group of chronic conditions affecting body movement and muscle coordination. In other words, the faulty development or damage to motor areas in the brain disrupt the brain's ability to adequately control movement and posture.
As a young athlete, the diagnoses could mean the end of a career before it even began. That is where CHI-St. Luke's plays a big part.
"At this point we are doing the most that we can to build muscles he doesn't even know he has yet," Kotalik said. "We are trying to prepare for the muscular issues as much as we can now so he can have some longevity if he wants in the sport."
Three months after his diagnosis, Reed was scheduled to have a foot surgery that would have likely kept him from running in the 2015 national meet.
"We canceled [the surgery] two times before deciding to go with physical therapy," Kotalik said. "We can't deny what his MRI said, but he's certainly doing his best to overcome it."
Reed now turns his attention to the 2016 National Championships in Ypsilanti and in Landover, Maryland in March.
"He was diagnosed with cerebral palsy right around the time I was going to ask him what sports he wanted to play the next year and he said he wanted to run," Kotalik said. "When he was diagnosed we all said we would just follow his lead. He continues to inspire me every day."
Determined runner, six-year-old with cerebral palsy trains with CHI St. Luke's and Olympic hopeful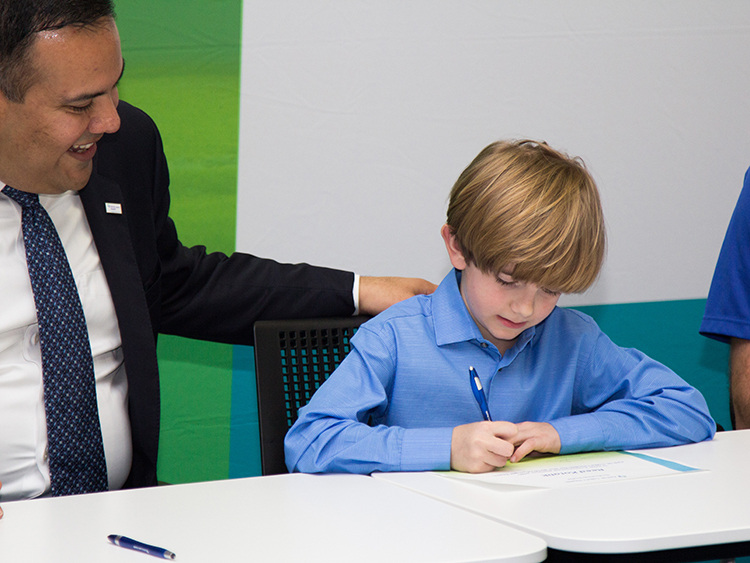 THE WOODLANDS, Texas — Reed Kotalik is a typical, energetic six-year-old boy. In November 2014, he was diagnosed with cerebral palsy. Within the same month, Reed asked his mom if he could run in a local race. He placed third.
To be that competitive and doing as much as he is doing and being that driven is something that you don't get to see very often
Cerebral palsy is a physical disability that impairs muscle movement and posture as a result of brain damage before birth, during birth or immediately after. Reed's mother, Dawn Kotalik, said knowing what her son was dealing with, she was emotional watching him run at all.
"I knew what he was battling," Dawn said. "I felt like I had this huge lump in my throat just watching him crawl to the finish line."
Once Reed crossed the finish line at his first race, he went home with his family. His mom got a call from the race's management staff saying that Reed won 3rd place and had a trophy waiting for him. What Dawn thought was merely a fun activity soon turned into Reed's pursuit of an early career in track and field.
After hearing so many good things about CHI St. Luke's Health – The Woodlands Hospital Performance Medicine department, Dawn decided she wanted to see how they could help her son develop into an athlete. When Reed met the department's lead physical therapist, Andrew Arthur, PT, there was an instant connection.
"It's just been an absolutely phenomenal experience. They customize the workouts to really keep him excited," Dawn said. "They're always changing it up, especially at his age so he doesn't feel like he's doing the same thing. It's the same goal, and it's the same strengthening, but they really adapted their way of training so that he's excited about it. Andy is his buddy and partner, and he wants to come here and see Andy."
Arthur, who works with a wide variety of athletes, said that Reed is certainly a unique patient.
"To be that competitive and doing as much as he is doing and being that driven is something that you don't get to see very often," Arthur said. "Working with him has been something that, for me, is very rare. He's also been such a good kid, and he comes in and you can tell that he's passionate about what he does."
A year of working with Arthur dropped Reed's mile time by three minutes and helped him gain more control of his legs and feet. Arthur said that cerebral palsy can majorly affect muscle tone, coordination and symmetry. With this in mind, Arthur fine-tuned Reed's training to transition the muscular therapy to athletic development.
"We started to work on some things to train that stuff out of the pattern that he was accustomed to so that he would use his lower extremities more symmetrically," Arthur said. "Once we started doing that, we saw an immediate improvement in his times, and we also saw some objective improvements in his lower extremity alignment when he's walking and running."
The young runner also trains with Chris Bilbrew, a local athlete who will be running the 800-meter at the Olympic Trials in July. Bilbrew formerly coached Reed's older brother, and Reed's mom decided it was time to reconnect.
"Chris has been such an inspiration for Reed," Dawn said. "He picks Reed up at 6:45 in the morning to do morning runs, and that's their thing. He just thinks it's fun."
Bilbrew said that in an attempt to keep Reed's training and his own separate, Reed has no idea that Bilbrew runs competitively. To Reed, Bilbrew is just his coach and running buddy. Three paths crossed about two months ago when Bilbrew needed to see a doctor for a knee injury. Having a great experience with CHI St. Luke's, Dawn suggested that Bilbrew get treated at the same facility.
During his first appointment, Arthur found out that Bilbrew was training for the Olympic Trials and offered him a spot in their department's athlete sponsorship. After meeting with the staff and seeing the different amenities that he'd never before had access to, the decision to train with CHI St. Luke's was a no-brainer.
Arthur said from a physical therapist's perspective, it was fun to see all the paths converge at CHI St. Luke's Performance Medicine department. He said it was exciting to have one of his patients coaching another.
"That was really interesting for me to be working on the physical therapy side of things and then to find out that Chris was helping him, coaching him and working on some of his skills was kind of a special thing," Arthur said. "Being able to discuss some of the things that he does in working with that and how it crosses over with some of the things that I do. It's not something that always happens, but the running world can be a small world."
Since winning 3rd place in his very first race, Reed has accumulated titles and awards from Run Houston and the AAU National Championship. He recently began to endeavor into field events, and at the West Coast Primary Championships in July, Reed won the gold medal in shot put and brought home several other medals. Seeking more than athletic success, Reed wants to start competing to contribute awareness to causes such as cerebral palsy, CASA, batten disease and Head for the Cure.
For more information about CHI St. Luke's Health – The Woodlands Hospital Performance Medicine department, visit their website at www.chistlukeshealth.org/performancemedicine.

FOOTBALL: Grant Milton: The Long Road
Updated 2:19 pm, Saturday, July 29, 2017
As Grant Milton rests in his bed at Touchstone Neurorecovery Center in Conroe, he is surrounded by his favorite things and memories of his favorite people. There's a blanket with a collage of images with friends and family printed on the thin fleece fabric. His vibrant LeBron James socks are rolled together as a pair and safely tucked away in his closet. And a hand-crafted pillow with the No. 21 proudly displayed in red and green numbers sits on the cushion of the easy chair in the corner.
For now at least, this is home for Grant as he continues to recover from a traumatic brain injury he suffered while playing football for The Woodlands High School nearly eight months ago.
Grant will turn 19 years old on Aug. 3. And while his future still remains uncertain, the road that has brought him to this point has been one filled with emotion for those who care about him the most. There have been moments of pure joy and others filled with extreme sorrow. But through all of those turbulent times, hope has remained, and love has triumphed above all.
— — —
As the minute hand crept closer and closer to 5:30 p.m., the sun began to capsize behind the confines of McLane Stadium at Baylor University in Waco. With the turf playing field illuminated by an array of bright stadium lights, the sky shifted to a vivid display of pink and purples hues. The temperature held steady in the 50s on a crisp evening in late November.
It was perfect weather for a high school football playoff game, and just a couple of hours after the autumn evening fell into darkness, The Woodlands and Austin Bowie clashed on the gridiron in a memorable shootout in the Region II-6A semifinals.
FOOTBALL: The Woodlands blows past Austin Bowie in regional playoffs
"Everybody was excited," The Woodlands coach Mark Schmid said. "That was the first opportunity to play at McLane, and it was such a cool venue. … You could feel the excitement and the electricity of playoff football, and it was awesome."
The Highlanders unleashed their ferocious offensive attack on the Bulldogs with senior quarterback Eric Schmid leading the unwavering charge. When the smoke cleared, the undefeated juggernaut from South Montgomery County had emerged victorious, taking control early in the second half before rolling to a 52-31 triumph.
But as The Woodlands and its faithful fan base began to experience the sweet emotions of the impending final whistle, Grant Milton was nowhere to be found.
With the fourth quarter winding down, the senior outside linebacker was no longer in the game. He was no longer standing on the sideline with his teammates. He was no longer in the stadium. All that remained was his shoulder pads, fully draped in his white No. 21 jersey and a Gatorade towel, hunched over on the ground next to the Highlanders' metal bench.
— — —
The holiday season can be a hectic one for people working in retail, particularly on Black Friday and the weekend that follows. That was the case for Patty Milton as she wrestled with the fact that she would not be able to attend her son's game nearly 170 miles away from her home in The Woodlands.
"Black Friday is probably the only weekend during the year that you can't get off," Patty said. "I couldn't get off that weekend. Not for any other reason ― but it was just work. I was watching Grant's game on the computer at night, which I would do if I had to miss a game."
Throughout the first half of the contest, the Highlanders' defense was playing with tenacity, limiting the high-powered Bulldogs to just 10 points. Grant was playing well, and even came up with a big sack of Bowie senior quarterback Wade Smith, which Patty witnessed through the glow of her computer screen.
"I'm watching Grant throughout the game, and sure, I pay attention to when he's on the field, when he's off the field," Patty said. "Point spreads ― that tells it all, too. So as a parent, you kind of prepare yourself for those crunch moments where your son has to be on the field."
As the game wore on and the Highlanders began to find some separation on the scoreboard, one of those "crunch moments" arose. Bowie was knocking on the door of the Highlanders' end zone early in the fourth quarter, as Smith had finally found a rhythm with his receivers in the passing game.
As an outside linebacker, Grant had many responsibilities, which included dropping into coverage.
"His job was to mess up the whole play," Patty said. "I'm thinking to myself, 'Grant, you've got this. This is so you. You've totally got this.' I didn't have a worry about it. You just know what your son is capable of."
As Patty was watching the play develop, she noticed that Grant turned the opposite direction of where he was supposed to go, and the receiver he was meant to shut down reeled in a touchdown catch.
"It looked totally off to me," Patty said. "It was very different from there."
— — —
While Patty was intently watching the game from home that night, Grant's father, Miles, was able to make the trek to Waco. Miles and the rest of his family sat near the 30-yard line on the east side of the stadium with the rest of the fans from The Woodlands. Being at a Division I college stadium with a sub-capacity crowd meant there really wasn't a bad seat in the house.
"My wife (Debra) and all of my kids ― my sons and my stepson and stepdaughter ― we were all there at the game," Miles said as he showed a group photo they took before kickoff, a green "Milton Strong" wristband protruding from the sleeve of his white button-up shirt. "We made a big event of it. I went to Baylor, and Grant was so excited to play in McLane Stadium. He could see us all up there, and he was waiving to us in the stands. He had a whole cheering committee up there."
As seconds ticked off the game clock in the final period, Miles suddenly heard someone shouting his name. He looked toward the sideline and saw David Lee, Grant's teammate and close friend, frantically motioning for him to come down to the field.
"He just had a horrifying look on his face," Miles said. "By the time I got down there and jumped the wall to get on the field, they were loading him onto the gurney to get him off the field and strapping him in. He was already in and out of consciousness, [and] he had already had a seizure. I ran off the field with the [team] doctor (Brant Lipscomb) and the EMSteam, and the ambulance was waiting there."
— — —
There are 6.5 miles on I-35 South in Waco that stand between McLane Stadium and Baylor Scott and White Medical Center. Every inch of that pavement and every second it took for the ambulance to reach the emergency room doors was crucial.
"They sent me back immediately, and it was just like what you'd see on a television show," Miles said. "There's my son, and he has his football (leg) pads, and there were at least 10 people in that room working on him between the doctors and the nurses."
The CT scan of Grant's head revealed that he had severe intracranial bleeding, and emergency neurosurgery was required.
"His pupils were dilated, which means it affects the brain stem, which is where your life support is," Miles said. "He was headed towards brain death."
Back in The Woodlands, Patty hitched a ride with a friend to Waco after receiving several calls from Lipscomb, who informed her that she needed to be there as soon as possible.
Two hours passed by as Grant underwent surgery at the hands of Luiz Cesar, M.D., who had been practicing neurology for nearly 40 years. By the time Patty got to the hospital, the operation was complete, but her son was not out of the woods.
"My brother met me at the elevator, and I found out that [his condition] wasn't that good," Patty said. "I learned that all my boys were told to say goodbye to their brother. He wasn't maybe going to make it through the night. I was told there from my brother that I needed to say goodbye. … I heard what was being said, and it was the worst words a parent ever wants to hear. I couldn't accept it."
— — —
During the final quarter of the game, Schmid was approached by team athletic trainer Charlotte Laverne and informed that Grant had been transported to the hospital with concussion-like symptoms.
Schmid had addressed his team and answered questions from reporters after the contest finally ended when he got another update.
"You go from this state of just euphoria and excitement for advancing and the kids, and then she tells me that he's in the hospital, they're doing emergency surgery, and it doesn't look good," Schmid said. "I was shocked. … You go from one extreme to the next in your emotions in a split second."
Schmid, Laverne and trainer Cody Dean rushed to the hospital and waited with Grant's family as the surgery was performed. Meanwhile, as the rest of the team rode back to The Woodlands on the bus, news of the operation was relayed to the players.
"That bus ride home was not an easy one," said teammate and fellow linebacker Zach La Canfora, one of Grant's closest friends. "Me and two of my really good friends (Lee and Conner Barnett) just sat in the back of the bus holding hands and praying with each other."
Around 3 a.m., after consulting with Miles on his son's condition, Schmid and Lipscomb decided to head back to The Woodlands.
"We're not on the road more than 30 minutes, and Miles calls," Schmid said. "And he says he just spoke with the surgeon, and the surgeon told him that he's not sure Grant is even going to make it. So once again, you go from, OK, he's going to be alright, to he may not even live."
Schmid arrived home around 5 a.m., but sleep was not an option. After a couple of hours had passed, he drove to the school to meet with offensive coordinator Jim Rapp. The two coaches talked about how they would handle the situation with the kids, knowing they also had a regional championship game against Round Rock to prepare for that week.
"[The game] gave us a purpose, and it gave us a focus," Schmid said. "That Sunday, the day after, some of Grant's closest friends (La Canfora and Barnett) went back to Waco to see him. They came to practice on Monday, those kids, and we had a team meeting. They wanted to address the team, and they just basically said that Grant is one of their best friends, and he would want nothing more than for us to focus on football and try to finish what we started at the beginning of the year."
— — —
Despite the bleak prognosis, Grant did survive the first night after his surgery and spent the next two and a half weeks in Waco in a coma. The Highlanders, meanwhile, rallied around their fallen teammate and dedicated the remainder of the season to him.
The very next Saturday against Round Rock, the Highlanders went back to McLane Stadium, dressed in the same white uniforms, and beat the Dragons 41-18. Patty was there watching the game from a suite, which had been offered to her by former Baylor coach Grant Teaff.
"That was the first real time where I felt like, 'I need to do this for Grant,'" she said. "I'm not a football person – I'm always asking for explanations. But I felt like I needed to be there."
FOOTBALL: Playing for teammate, The Woodlands wins regional title
As kickoff approached, the Highlanders' captains ― Eric Schmid, Michael Purcell, Chris Stewart and Zach Loane ― walked out to midfield together for the coin toss. Purcell and Loane carried Grant's pads and jersey with them to christen their teammate as an honorary captain.
"I was tearing up as I was carrying his jersey out," Loane said. "He deserved to be there, and he was one of those kids who always put the work in. He was a leader to me and a role model to me. I know it meant the world to all of us to do that and honor him in that way."
All throughout the stadium, the No. 21 could be seen. There were t-shirts, signs, helmet decals for the players, and even a banner hanging from the railing on the Round Rock side that read, "All of Dragon Nation is #MiltonStrong21" in the Highlanders' colors.
"When I saw them bring the jersey out, I felt like a giant puddle, to be honest," Patty said. "I was very overwhelmed. It was incredibly special, and it came from those boys' hearts."
After that game, The Woodlands went on to beat Allen in the state semifinals before ultimately falling to Lake Travis in the state championship game at AT&T Stadium in Arlington. Patty was there at the send-off rally, offering hugs to the players and coaches as they boarded their charter bus. And although the season ended with a disappointing loss and a 15-1 record, the players showed their character as they fought for Grant on every single snap.
"I was never more impressed by a bunch of teenage kids than I was as I watched them deal with that situation," Schmid said. "It was a very close group of seniors, and they've been close all growing up. … No matter what level of friendship you had with Grant, everybody was thinking and feeling the same way. Just an incredible group of young men ― that's going to stand out with me forever."
FOOTBALL: An emotional, unforgettable season for The Woodlands
— — —
The day after Grant's surgery, a prayer gathering was organized at StoneBridge Church in The Woodlands, and Grant's family watched on a cell phone as the community came together to show its support.
"It was so beautiful," Patty said. "There wasn't a dry eye in that room. We all crowded around that little phone, and we were watching this giant moment. It was really incredible. At that point, visually I could see the good will and the love, and it was a really tremendous moment."
That evening was just the beginning of what would turn into a tidal wave of support and outpouring, not only from The Woodlands community, but also from across the state of Texas and beyond.
Thousands of dollars began to flood into the GoFundMe page created by Dorothy Casey, the mother of senior wide receiver Dylan Casey. Houston Texans star J.J. Watt made a $10,000 donation after learning of the situation, and left a message for the family as well: "If there's anything that I can do to help, please let me know," the All-Pro defensive end wrote. "Sending my best wishes to Grant and the entire Milton family."
Texans star J.J. Watt donates $10,000 to injured Woodlands player
As of Saturday evening, the total amount raised was just more than $147,000 with more than 1,666 individual donations. More than $100,000 of that came within the first few days.
Over the next several weeks after the injury, various fundraisers were organized by supporters of the football program with specially-made t-shirts, wristbands and other assorted items being put up for sale. Local business also chipped in, offering a portion of their proceeds during certain times of the day to the Milton family.
While Grant was in Waco, a waitress at a local restaurant overheard his brothers talking about their situation and later prepared a homemade meal for them.
Smith, the same quarterback who Grant had tackled to the ground during the game against Bowie, traveled almost two hours for a hospital visit with his mother to show his support.
The Allen Eagles, who the Highlanders defeated on their way to state, gave the family a football-themed wall decoration that reads, "I can handle anything that life throws at me." It hangs above Grant's nightstand to this day.
And a man from the Dallas area sent Schmid an old bronze statue of a football player that he had reluctantly held onto for years. The metal figurine dons the No. 21, and when the man heard of Grant's situation, he knew there was a reason he kept it.
Those gestures, along with countless other acts of kindness, made a big difference for Grant's parents and siblings.
"The broad community has been just unbelievable," Miles said.
— — —
While Grant has been battling his own condition, Patty has also faced personal health struggles. She was first diagnosed with breast cancer at age 38 when the family lived in Ohio. Grant was very young at the time, and after receiving treatments over an extended period of time, Patty finally reached remission.
But after they relocated to Texas, she was re-diagnosed with Stage 4 cancer. She is still battling the disease to this day.
"It's just been something that we kind of roll with in our family," Patty said. "It's certainly not the death sentence that people think it is. … Right now, I'm doing great, and I have been for so many years with God's grace. And I think everything Grant has been brought up with gives him such a push. There's no obstacle [he can't overcome]. I look at the stuff that I've gone through and my family has gone through as really a positive for what Grant is going through right now because I know he gets that strength and maybe some of my tenacity."
Before Grant's injury, Patty was very involved with a program called Canopy, which originated at Memorial Hermann-The Woodlands Hospital and provides cancer patients and caregivers with an assortment of complimentary support and educational services. She is hoping that one day a similar program will become available in the area for those dealing with neurological disorders and injuries.
"It's an incredible gem in The Woodlands community and all of Montgomery County," Patty said.
— — —
Over the first seven months after the injury, Grant lost 30 pounds from his 6-foot-1, 190-pound frame. He is still unable to speak, using "Yes" and "No" cards to communicate by looking at them when asked a question. He is still receiving tube feedings and is not able to consistently move on his own.
It's been a long road, from Baylor Scott and White in Waco, to a brief stint at Nexus Specialty Hospital in The Woodlands, to TIRR Memorial Hermann in downtown Houston, and now to Touchstone. Both Patty and Miles have expressed a great deal of gratitude for all of the medical professionals that have helped their son in his recovery.
There have been little moments of encouragement throughout the process. Back on April 23, Grant scribbled his name on a piece of paper. His eyes swelled with tears when he saw a photo taken by Lon Larsen of the Highlanders emerging from a smoke-filled inflatable helmet before a game at Woodforest Bank Stadium. And at times, he has shown cognitive response to commands by lifting his right hand when asked to give a "high five."
But despite those instances of progress, no one is quite sure what his long-term prognosis will be. As the swelling in his brain decreased in the weeks following the injury, it gave rise to ischemic bilateral strokes, leaving several areas on both hemispheres permanently damaged.
Grant is essentially undergoing a re-wiring of his brain.
"I don't harbor an ill will towards football," Miles said. "I've had people ask me that, but I haven't even gotten to that part of a reconciliation with that yet. But I can tell you my son loved to play it. The cheerleaders cheering, the band, the Highsteppers, Grant loved all of that."
While the injury has adversely impacted his young life – Grant had his sights set on possibly attending the University of Oklahoma this fall with La Canfora as his roommate – the silver lining is the impact his story has had on others.
It was apparent when youth football players Anderson and Ashton Adkins came to visit him at Touchstone. Or when Reed Kotalik, a young athlete with cerebral palsy, runs a race with Grant's No. 21 on the back of his shirt.
The 21 Strong Foundation was created by classmate Grant Farley and Mel Saettone with the goal of being an advocate financially and socially for high school football players who have suffered brain injuries like Grant endured.
FOOTBALL: 'A Night of 21 Strong' introduces new foundation to help others
"That's the good that comes out of it," Miles said. "Most of all, that's what you want to see – you never quit, you never give up, you always have hope, and you have to put your faith in God. No matter what, even if this is as good as Grant gets, his injury did something for other people in a positive way."
As La Canfora prepares to leave for college at Oklahoma later this summer without his best friend, he is constantly reminded that each day is a gift.
"It definitely gave me a better perspective on life," he said. "You just have to cherish everything because you never know when it's going to be your last day or your last breath. I look at every day now with a more optimistic view just because I want to enjoy everything I'm doing. I know Grant would want to be right there next to me."